When we think of hearts, we think of Valentine's Day and the exchange of cards and unique trinkets shared with our family and friends. February is also American Heart Month which creates awareness about heart disease, the number one cause of death in the U.S. Every cell and organ in your body relies on a healthy cardiovascular system. So, while you're spreading the love this month, make sure some of it's for yourself. When you love your heart, you love your liver and overall health too.
The Heart and the Liver
The circulatory system and the heart work together to form the cardiovascular system. The heart pushes the blood through the lungs to add oxygen to it. Along with other nutrients, the oxygen-rich blood is pumped through veins and arteries to all the body's cells and organs, which is necessary for them to function.
The Liver has hundreds of vital functions and is the only organ with two separate blood supplies. One brings blood from the heart; the other brings blood from the intestines to filter it. The liver receives up to 25% of blood from the cardiovascular system.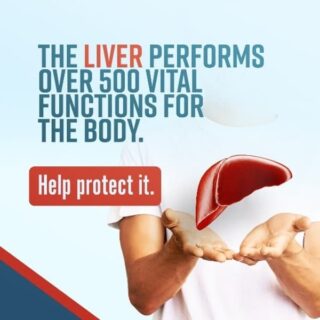 How They Impact Each Other
Heart disease is a term for various conditions affecting heart structure and function. For example, coronary artery disease, the most common condition, causes narrowing or complete blockage of the veins and arteries in your heart from cholesterol or plaque. This makes it difficult for blood to reach the rest of the body and the heart itself. Decreased blood flow can cause liver cells' death, which makes it harder to function. Eventually, the liver becomes permanently scarred, ultimately leading to cirrhosis.
Non-alcoholic fatty liver disease (NAFLD) is where an abnormal amount of fat accumulates in the liver. It is one of the most common liver diseases in America. NAFLD leads to chronic inflammation of the liver that progressively damages and scars the liver, leading to cirrhosis. A compromised liver affects the heart in many ways, including:
Narrowing, enlarging, and other damage of the blood vessels from not effectively filtering the toxins from the blood.
Increased blood pressure as the liver struggles to keep up with the flow from the heart. High blood pressure can damage and weaken the heart.
The risk factors shared for both conditions include obesity, poor diet, and lack of exercise.
Making Healthier Choices, Starting NOW
While liver and heart diseases have overlapping risk factors, most cases are preventable and respond to healthier lifestyle changes. Focusing on your health has never been more critical. During American Heart Month, we encourage every person to take the first steps towards a healthier life, including
Becoming more physically active
Eating a healthy, sensible diet low in sodium, sugar, and trans fats.
Adopting a good sleep hygiene routine ensures your body is getting enough rest.
Looking into smoking cessation programs to stop smoking.
Learning what you can do to reduce and manage stress better.
Visit the National Institutes of Health website for more information on weekly self-care ideas and other resources to help you get involved.
If you have NASH, participating in a research study is a great way to celebrate American Heart Month by prioritizing your health. To learn more about enrolling liver studies here at Arizona Liver Health, call us at (480) 470-4000 or visit our website today!
Sources:
https://www.nhlbi.nih.gov/education/american-heart-month/about
https://www.sciencedirect.com/science/article/abs/pii/S0002870300825077
https://eurjmedres.biomedcentral.com/articles/10.1186/2047-783X-14-12-541