The number of U.S. adults with non-alcoholic fatty liver disease (NAFLD) currently sits around 25%. Approximately 2-3% of them will go on to develop non-alcoholic steatohepatitis (NASH). NASH is a more severe form of NAFLD and can lead to fibrosis, cirrhosis, and liver failure. By 2030, it is estimated this number will increase from 2-3% to up to 63%. Among the ethnic groups affected, Hispanic populations face the most significant risk of liver disease. Here's why.
Dangers of NASH and Prevalence in Hispanics
NASH often stems from high-sugar, high-fat diets. To compensate, our livers begin storing excess fat. If nothing changes, inflammation occurs over time. Eventually, the inflammation progresses to cirrhosis, liver failure, liver cancer, the need for a liver transplant, and even death. NASH also has a close association with other conditions such as heart disease, which is the leading cause of death in patients.
Thirty million Americans have NASH. The problem is most don't know it because there typically aren't any symptoms. Liver disease is a top cause of death among Hispanics, with NAFLD being among the most prevalent type. Hispanics are more often diagnosed in more advanced stages of liver disease and less likely to get help. Hispanic mortality rates are double that of other races.
Risk Factors
Multiple factors are contributing to the disproportionate effects of liver disease on Hispanics. Each element is also a top cause of fatty liver disease. These include:
43% of Hispanics in the U.S. are considered obese
35% of Hispanics in the U.S. have metabolic syndrome
Diets high in carbohydrates and sugar
Many Hispanics possess the gene variation PNPLA3, which is associated with a heightened risk of NAFLD and NASH
The predisposition of Hispanics to these multiple risk factors further increases their risk higher than other ethnicities.
Be Proactive with Your Liver Health
By knowing the risk, Hispanic individuals can take steps to protect their liver health proactively. You can work with your doctor to routinely check your liver for any changes. Those with NAFLD or NASH can slow, stop, or reverse disease progression through healthier lifestyle changes. Prevention is also possible for at-risk individuals. Here are three lifestyle changes you can start immediately:
Maintaining a healthy weight
Eating a well-balanced, sensible diet
Exercising moderately at least five days a week for 30 minutes or longer
Lifestyle changes are the basis of liver disease treatment and prevention. By reversing the same behaviors that contribute to this condition, you can make a big impact on a healthier, better-functioning liver. The liver is a regenerative organ and can heal itself if caught in time. Don't wait!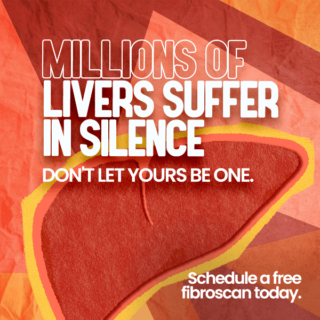 Arizona Liver Health offers FREE fibroscans for adults at risk of liver disease. A fibroscan is a test that detects the stiffness in a liver to determine fatty liver disease or other conditions. It's a quick, painless way to evaluate the health of your liver, and the results are immediate. There's no cure for NASH. As a result, potential treatment options are under investigation in clinical research studies. If your results show the presence of liver disease, our team with review enrolling study options that may help.
Schedule your FREE fibroscan today! Call us at (480) 470-4000, or request an appointment online.
Sources:
https://txliver.com/media/hispanics-and-liver-disease/
https://salud-america.org/the-silent-liver-disease-epidemic-among-latinos/