thoughAfter a diagnosis of COVID-19, most patients with mild cases return home to quarantine and begin recovery. The thought may sound daunting, but don't worry. With the proper precautions and knowing the warning signs, you do it. When treating mild cases of COVID-19, you are safer at home.
Caring for Yourself, Caring for Others
Whether you are caring for yourself or a loved one, there are a few things to keep in mind when recovering at home. Make sure to follow all safety protocols because the safety of the patient and caregiver is equally important.
The patient should have a separate room with private bathroom access, if possible. If not, a sectioned area in a room will work. The bathroom would need to be sanitized after each use as well.

Protect Yourself and Others

A person must be isolated in quarantine for up to 10 days after the first symptoms began and 24 hours after being fever-free. Depending on the person recovering, the doctor may require a longer time.
Use a face mask
Wash your hands often
Cough into a tissue that you throw away immediately
Clean frequently touched surfaces often
Don't share personal items, like dishes, towels, or bedding. Wash all items thoroughly.

Managing Symptoms

Take Tylenol to help reduce fevers
Stay hydrated by drinking water or juice
Resting will give your body the energy it needs to fight off the virus
Warning Signs
Call 911 immediately if you are having a hard time waking the patient up or they are showing any of the other warning signs:
Breathing trouble
Chest pain or pressure that is not alleviated
New confusion
Bluish color of lips or face
Inability to stay awake
COVID-19 Positive Adults Research
Clinical research studies help develop safe and effective ways to diagnose, treat, and prevent conditions like COVID-19. Research studies are why we have vaccines and other therapies available to help patients beat the virus. Without volunteers participating in research studies, these advancements wouldn't be possible.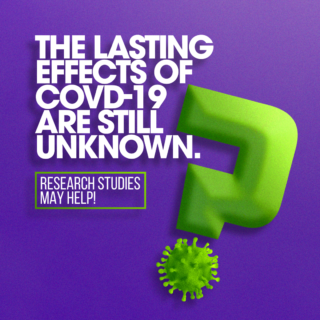 Though we've come a long way, the battle is far from over. A diagnosis of COVID-19 can often come with an overwhelming sense of helplessness. But as research continues, everyone willing and able can help in the fight to end COVIID-19. If you have a positive diagnosis of COVID-19 within the last 96 hours, research studies here at Arizona Clinical Trials may be an option. Contact us at 480-360-4000 to learn more, or visit our website.
References:
https://www.mayoclinic.org/diseases-conditions/coronavirus/in-depth/treating-covid-19-at-home/art-20483273
https://www.umms.org/coronavirus/what-to-know/treat-covid-at-home